Many accounting and auditing firms are utilizing cloud computing to improve business efficiency and productivity. And through cloud-based accounting solutions, they are finding it easier to prepare and examine financial records.
While they are similar to traditional desktop accounting software, cloud-based tools are packed with these benefits: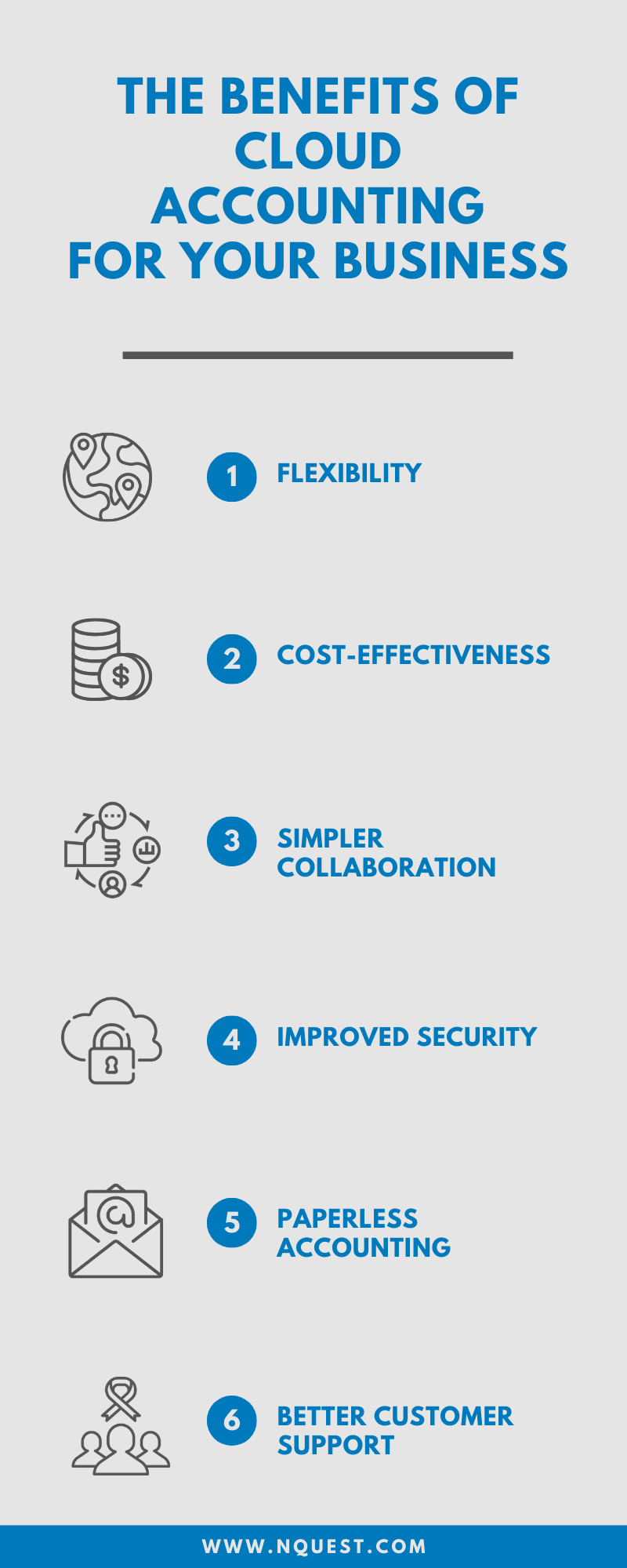 #1. Flexibility
With desktop-based accounting programs, your software, data, and accounts are saved to a local drive, which means you can access these only on a particular computer. Once you close the software and turn off your computer, you no longer have access to the information.
On the other hand, cloud-based accounting tools allow you to access accounts and financial figures anytime and anywhere using web browsers on mobile devices such as laptops, tablets, or smartphones. Your records are stored in geo-redundant servers, which enables you to access your files on demand using any internet-connected device.
#2. Cost-effectiveness
Desktop accounting systems require you to shell out hundreds of dollars to buy hardware. You also need to purchase a server to store software and related data, and hire an IT professional to overlook your entire infrastructure. This can be expensive for small- and medium-sized businesses.
But with cloud-based accounting systems, you only have to pay a monthly subscription fee. This eliminates the need to invest in expensive IT hardware, maintenance, or staff. The automatic update feature also ensures you are always running the latest software version.
#3. Simpler collaboration
With more people working remotely these days, cloud accounting software can help them collaborate more easily. Through tools such as SAP, QuickBooks and Xero, accountants can quickly access any account and work on it in real-time.
For instance, while clients input their data, accounting staff can access the information and correct issues or gain insights in real time. This saves clients and accounting staff time and effort.
#4. Improved security
With a traditional accounting solution, your data can easily be accessed if someone steals your business's computers. This can result in a massive data breach that can jeopardize your clients' privacy.
But if you run your cloud-based accounting solutions in a cloud service provider's remote data center, you can rest assured that multiple security measures are in place to protect the software and your data. Accounting software also uses end-to-end encryption for data transfers, which secures information from unauthorized access.
#5. Paperless accounting
Before, accountants had to deal with a lot of data entry and paperwork, which required them to print out pages and pages of documents. This is not just resource-intensive, but it is also damaging to the environment.
But thanks to cloud accounting solutions, you can reduce paperwork by emailing invoices to clients and working on client accounts on the software itself. This not only speeds up business processes and saves on costs, but it also reduces your company's carbon footprint.
#6. Better customer support
If you're experiencing some issues with traditional accounting software, you have to call a customer service representative and wait for assistance. This isn't always guaranteed, however, due to the high volume of calls software companies receive.
You won't have to do that when you use cloud-based tools since these services are paid on a monthly basis and most service providers offer on demand technical support to its customers. Software developers and sellers are able to implement tighter quality controls over their products and services, and improve customer satisfaction.
Your clients trust you with their most valued assets. NetQuest will proactively monitor your network for any threats and protect the integrity of your files. To learn more about how outsourcing your IT to us can supercharge your Baltimore business, download our FREE eBook today.
Learn more how outsourcing IT can help you!
SMBs need reliable data security and network uptime. Otherwise, they could lose thousands of dollars in lost business, regulatory fines, and reputational damage.
---